NOTE: The article first appeared in October 2015. The city suspended Art After Dark in 2020 during the Pandemic, and Bambu Batu closed before the event was reinstated in 2021.
This week marks the fifth anniversary of what has become something of an institution here at Bambu Batu. Art After Dark in SLO takes place on the first Friday of each month, and shopkeepers and art-lovers alike have come to look forward to this monthly opportunity for mingling and moseying around San Luis Obispo's charming, historic downtown district.
From 6-9 pm, most participating venues will host art openings that showcase artwork ranging from local oil paintings to international textiles, and everything in between. Small but cultured, San Luis Obispo boasts a flourishing community of artists, including world-class Plein air specialists, award-winning jewelers, a growing cottage industry of crafters, an active and talented cadre of painters both abstract and representational, and all manner of sculptors and ceramicists. Alongside these diverse and abundant exhibits—around thirty each month—most galleries offer something else for which our region has earned an impressive reputation, glasses of fine wine.
Musical arts at the House of Bamboo
In our unending effort to distinguish ourselves, Bambu Batu takes a unique approach to Art After Dark in SLO. As our wall space is already well filled with lovely art, scrolls and bamboo merchandise, we generally try to focus on other forms of art. Each month we feature a different line-up of local musical artists, from gypsy jazz ensembles to ambient DJs to singer-songwriter soloists (including Anthony Roselli in the photo above). Tonight (Oct. 2, 2015), our special guests include and a handful of members from SLO county's notorious bluegrass sensation, the Mother Cornshuckers.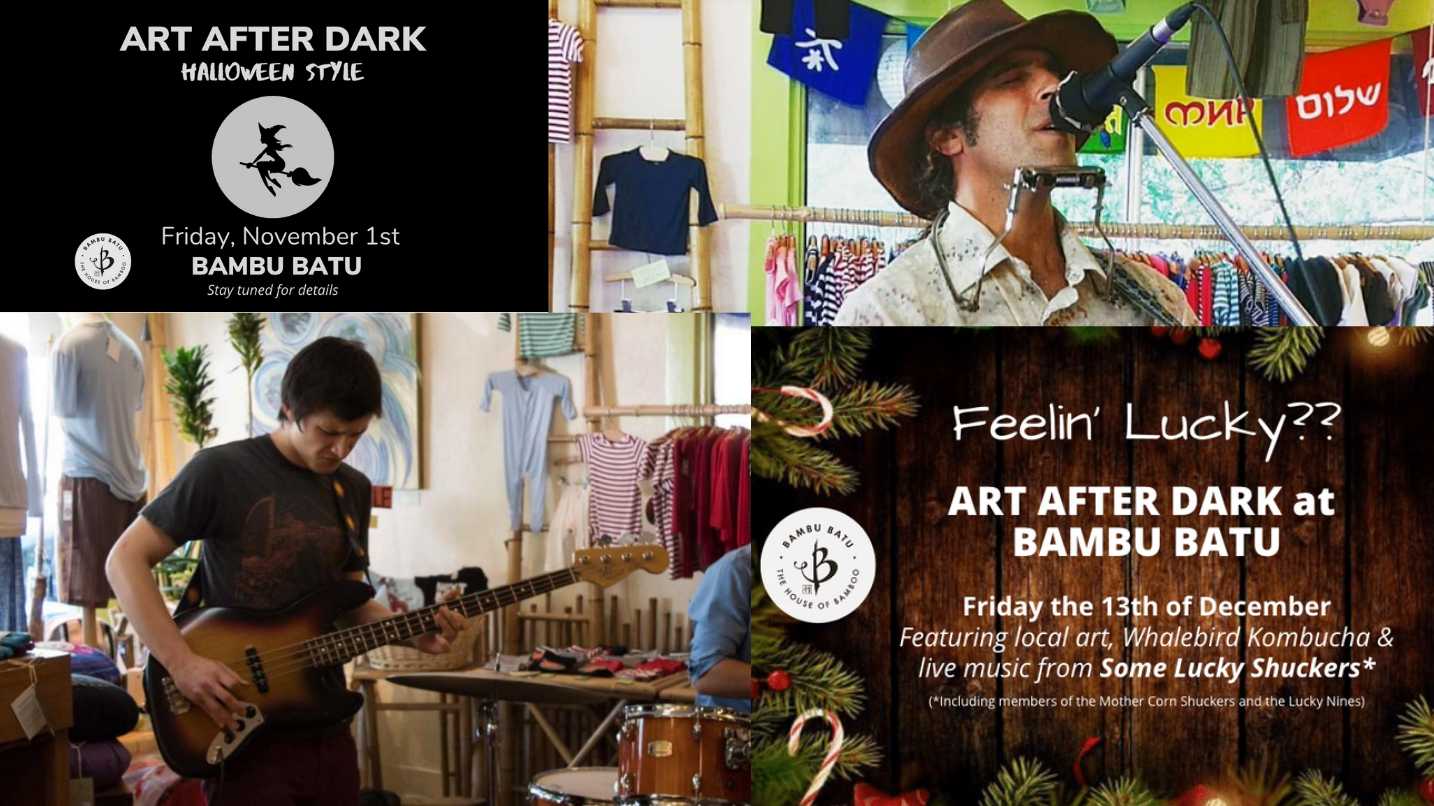 As a spiritually oriented shop, we also take Art After Dark as an opportunity to showcase the metaphysical arts. Harry Farmer, the impresario of astrology on the Central Coast, participates on a semi-regular basis, offering his most insightful readings of your planets based on decades of study and experience. Mary-Aiñe Curtis also offers her intuitive talents on alternating months, using Angel Cards to exercise her sensitive energy reading skills.
Fermented arts after dark
Finally, given this region's saturation of grapes and wineries, we opt to offer another much loved but under-represented exemplar of the fermented arts: craft beer. Typically we pour suds from either Creekside Brewing Company (brewed and based directly across the street) or Figueroa Mountain Brewing (based in Santa Ynez and brewed in nearby Arroyo Grande). Beer and wine lovers alike consistently appreciate our bold efforts to diversify the palate.
Bambu Batu is proud to be a part of Art After Dark in SLO, and whenever possible we also include arts and crafts from local artisans, to brighten up the evening's fare and give budding artists a chance to gain some exposure and display their works. And at last, we can rejoice that Bubblegum Alley is no longer San Luis Obispo's greatest contribution to culture!
Bambu Batu sings its Swan Song
Some of the fondest memories of Bambu Batu were formed on the Friday nights when legions of music lovers, beer drinkers and bamboo enthusiasts would cram into the store for three fun-filled hours of arts and entertainment. It was a way for our business to get discovered by potential customers who had never found an excuse to visit during ordinary hours. And it was also an opportunity for us to give something back to the community, promoting local artists and musicians and offering up some high-caliber pale ale.
My wife and I are artists as well, and we took the opportunity to show on own paintings and more than one occasion. But we also had many friends in the local art scene, including, painters, jewelrs, photographers and herbalists. A passionate strummer of the six-string, I also enjoyed several opportunities to sit in with members of the Tipsy Gypsies and the Cornshuckers.
In May 2020, Bambu Batu ran a massive liquidation sale and liquidated its entire inventory. This took place in the middle of a pandemic, when it was unclear if we were even allowed to let customers in the door. As part of the safety protocols, Art After Dark was temporarily suspended. But in the spirit of celebration and fond farewells, Bambu Batu was determined to throw one last hoorah.
The first Fridays of April and May passed without events, adding to the many disappointments of lockdown and social distancing. But on the last Friday of the month, we decided to circle the wagons, tune up the guitars and fill a cooler with ice-cold Coronas.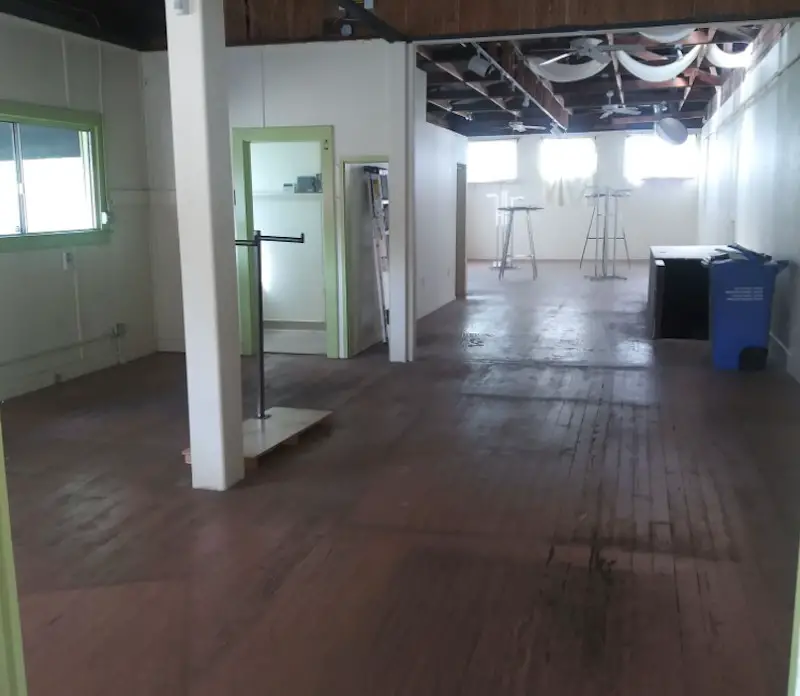 With the liquidation sale in full swing, there's was a lot more space than usual on the showroom floor. Just a few last remaining article of bamboo furniture here and there. A thin stack of bamboo socks covered a makeshift display unit. In just two more days, we would be locking the doors for the last time.
Given the state of social anxiety, not too many people came out for the event, but the music was spot on. And the abnormally bare walls provided us with fuller than usual acoustics. For a solid two or three hours, we crooned, noodles and improvised over a catalog of classics from the great American songbook, including tunes from Neil Young, Jerry Garcia, and Little Feat, to name but a few.
The show must go on
If you can remember San Luis Obispo and the House of Bamboo from before the great disruption, you might also enjoy some of these other nostalgic stories for our blog.