As an introvert with his Sun in Cancer and a penchant for writing poetry, I am normally very uncomfortable with the word "mob". I immediately picture villagers with pitchforks, trashcans on fire, and bloated, greasy-haired wiseguys in pinstripe suits. But what if there was something that could transform the negative connotation of "mob" into something a bit more sanguine, and perhaps even beneficial?
As a matter of fact, there is. Rather than storming the castle, you can sponsor, support or even save a cherished local business by creating a "cash mob". These happenings are commerce-oriented versions of flash mobs, where participants use social media to arrive at an agreed-upon small business at a specific time and make a minimum $10 purchase. By spending money at a local establishment, cash mobs hope to provide a little economic stimulus and generate some publicity around the kind of independently owned shops that make our downtown so unique.
Supporting local business
Even before the Pandemic forced everyone to do even more of their shopping online, local businesses were already feeling the pinch from massive discount box stores and round-the-clock delivery service from Amazon. There's a special pride of ownership that comes from running your own small business. But there's also a constant sense of anxiety, wondering when your landlord might replace you with a corporate tenant with deeper pockets, or when a major competitor might open a 50,000 square foot outlet on the outskirts of town.
San Luis Obispo has long stood out as a city with a uniquely charming downtown. While the rest of highway 101 grew lined with strip malls and mega marts, the cute college town was able to maintain a healthy balance of local shops and corporate chains. The bigger names served as anchors, occupying the larger retail spaces and attracting mainstream shoppers in search of national brands. Meanwhile, the small, mom-and-pop businesses added local flavor and color, promising something unusual and out-of-the-ordinary that visitors might find nowhere else.
Naturally, Bambu Batu was a perfect example of the latter. Devoted to promoting all things bamboo, we had an extraordinary selection of bamboo clothing, bamboo sheets, bamboo towels, bamboo kitchenwares, and more. You could travel the country and never find another place like Bambu Batu.
Not everyone understood what we were all about. Some people prefer business as usual, simple cookie-cutter products with familiar logos and no explanation required. But for those in search of an experience, a statement of sustainability, and a sense of spirituality, Bambu Batu was something of an oasis.
So a committee was formed to organize events and activities that would support small businesses like ours, helping to ward off the encroachment of major corporate chains. One of their best ideas was the Cash Mob series, and it ran for several spectacular weeks.
San Luis Obispo's resident Cash Mob committee selected Phoenix Bookstore (990, Monterey St.) as the site for one of their very first events, in May 2012. As my image on the front page of the Tribune (featured above) clearly indicates, I was there to show my support and browse the shelves of this local institution. I don't remember what I bought, but if I had to guess, it was probably a philosophical novel from Hermann Hesse or Thomas Mann.
The Cash Mob comes to Bambu Batu
The following week, Bambu Batu was thrilled to be selected as the Cash Mob destination, and it was an unforgettable event. We've had some pretty large crowds in the shop, especially for Art After Dark and during the holiday madness in the days leading up to Christmas, but this was something else.
Unfortunately, we were not able to get any great photos of the event, as my assistant and I were completely overwhelmed by eager but patient shoppers. The KSBY news crew even showed up to interview me on live television. The reporter thought it would be clever to interview me in the middle of the mad rush, while I was waiting on customers and operating the cash register.
The sense of frenzy was palpable. But, in all honesty, his persistent questions were somewhat annoying in the midst of the frantic commerce. Friends who saw the report on television found it pretty amusing, the way he pushed through the crowd while I was trying to serve customers and ring transactions. But in any case, the economic stimulus was well received and a great time was had by all.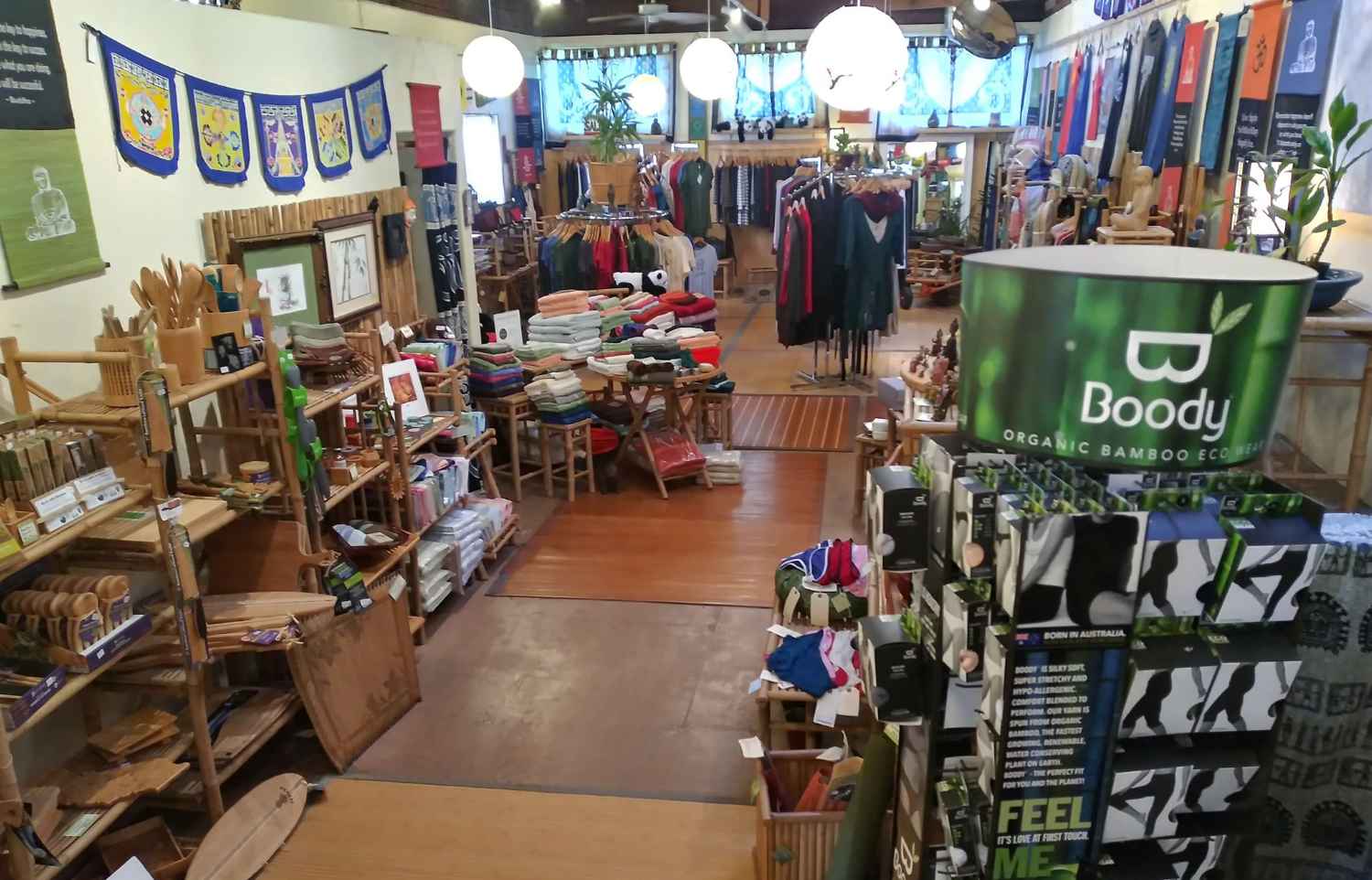 Bambu Batu enjoyed another eight years of prosperity, but when the Coronavirus came around, we decided it was time to hang it up for good. State and local officials were saying we had to close for two weeks, and then it was six weeks. And then nobody knew. I like to bend the curve as much as anyone, but when you're trying to run a retail business, this kind of uncertainty is just impossible.
So when April ended, I decided this would be it. Damn the torpedoes, we're opening the doors on May 1, with or without permission from the governor. And open we did. This was going to be our last month in business, and our loyal fans and followers came out in droves. They wore masks, they maintained distance, and they took advantage of some deep discounts.
We sold everything in sight. We took art off the walls, we took curtains out of windows, and we unscrewed fixtures from the ceiling. It was a liquidation sale like no other. And by the end of the month, the 1,400-square-foot store had been reduced to just four or five boxes of random articles that didn't sell. It was a sad time, but it was also the most successful close-out anyone could have asked for.
Thanks again to our loyal, loving mob of Bambu Batu fans. Those were some of the best times of my life.
NOTE: This article first appeared in May 2012. The most recent revisions were made in May 2022.
Spread the local love
If you enjoy hearing local success stories or you want to reminisce about the good times at Bambu Batu between 2006 and 2020, take a look at some of these other fun stories.
(Photo Source: Joe Johnston, The Tribune, Tuesday, May 8, 2012 )