NOTE: This article first appeared in February 2016, most recently updated in June 2022. To make shopping easier, we have included some affiliate links. That means if you follow the link and make a purchase, we might earn a small commission, at no additional cost to you. These small earnings help us cover the cost of maintaining our website.
Are you still looking for the most comfortable and ecologically responsible undergarments known to man and woman? After a couple of decades in the natural fibers business, so were we. And it looks like we've finally found them: Boody Wear.
Boody Wear is the premier manufacturer of sustainable and organic bamboo undergarments. Neil Midalia and David Greenblo launched Boody in Sidney, Australia, in 2012. As a B Corporation, they have displayed a steadfast commitment to running their company in the most socially and environmentally responsible way possible. We are proud to have been working with Boody since 2014.

Boody call
In the age of conspicuous consumption, the last thing we want to do is create unjustified demand for another unnecessary product. But what's more essential than a good pair of underwear? And you won't find a line of men's and women's undergarments more comfortable and ecological than Boody's.
We started buying, selling and wearing Boody bamboo apparel back in 2014, and we've been consistently impressed by everything they make and everything they do. And to assure you that we're not just speaking in hyperbole or making glowing generalizations, let me break it down into a compelling list of features and benefits.
SUPERIOR COMFORT
When it comes to choosing the right socks, panties and undershirts, comfort might be your highest priority.
Softness: If you know anything about bamboo fabric, you know it makes some of the softest clothing you could ever imagine. But that's just the beginning.
Breathability: The next thing you'll notice about bamboo clothing is how well it breathes. That ensures that it feels good on your skin all day long. And that's especially important with items like socks, underwear, bras and leggings.
Temperature regulating: The way bamboo is able to keep you warm in the winter and cool in the summer is another incredible attribute. This is a huge advantage of bamboo bed sheets, as well as undergarments.
Anti-bacterial and odor resistant: Here's where things get really interesting. Sorry if it's TMI, but we all know what it's like to have smelly socks. If you thought there was no solution, then it's time to try bamboo. And if bamboo can keep your socks odor-free, then just think how healthy your underwear is going to be.
Color-fast: Over time, something else you'll notice about clothing made from bamboo is that the colors don't fade. This is a particularly nice feature of the black t-shirts and leggings. After dozens of washes, they're still as black as the day you bought them. No fading to dark gray after months and years of wear.
Style and selection: Superior bamboo underwear and apparel is about more than just a good quality fabric, it needs to fit right and look good. Boody Wear undies and bras come in several styles with incremental sizing, so you're guaranteed to find a model that fits you right. When we sold Boody at our shop, from 2014 to 2020, we consistently got very positive feedback for that exact reason.
COMMITMENT TO SUSTAINABILITY
For a lot of people who choose bamboo, comfort is only one consideration. Some of us are more concerned about reducing our carbon footprints, avoiding agricultural chemicals, and supporting honorable labor practices.
Organic bamboo: One of the chief benefits of bamboo, as an alternative to cotton, is how well it grows without chemical pesticides and fertilizers. But that's not guaranteed to be the case. So Boody goes one step further and only sources their fabric from certified organic bamboo. They rely on Moso bamboo grown in China.
FSC Certification: It's also important to understand that not all bamboo farms or forests are equally well-managed. Once again, Boody is careful to buy only from the most diligent and responsible bamboo producers who have been certified by the Forestry Stewardship Council.
Oeko-Tex Certification: Another non-profit, third-party verification organization, Oeko-Tex guarantees that garments are free of any foreign chemicals related to cultivation or the production process. Of course, you don't want any nasty chemicals coming close to your "bathing suit parts".
Lyocell fabric: Most bamboo clothing is made with a viscose or rayon process, with the use of an inorganic solvent, sodium hydroxide, commonly known as caustic soda or lye. Boody has begun to switch to an even cleaner process, known as lyocell, using a non-toxic organic compound in a closed-loop system.
Responsible labor practices: As the bamboo grows in China, and all the processing facilities for bamboo fabric are also in China and India, Boody also does its manufacturing in China and India. But they are transparent about their operations and always put people before profits.
Philanthropy: In addition to all these commitments, Boody also donated a percentage of its profits to support a variety of charity organizations, including Circle of Love and Goodbye Malaria.
Boody Brand Ambassador: Jane Goodall
Don't just take my word for it. Or even the positive feedback from years of experience and legions of loyal customers. Jane Goodall, one of Mother Nature's greatest advocates and defenders, become an ambassador of the brand in the spring of 2022.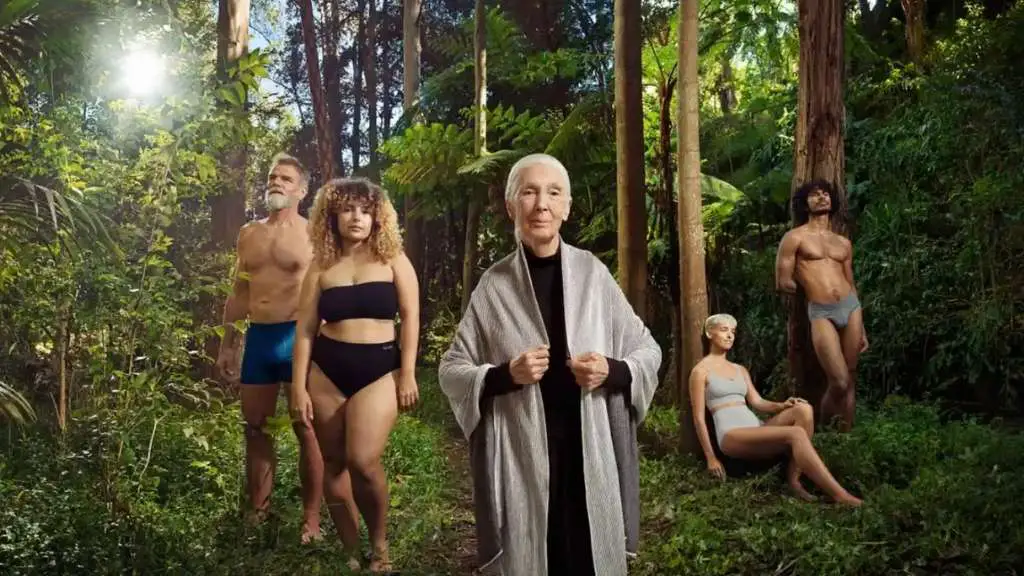 In Sydney and Melbourne, 30-second television ads and prominent billboards feature the renowned primatologist promoting Boody's exquisite line of organic bamboo underwear. In exchange for her endorsement, Boody paid an undisclosed sum directly to the Jane Goodall Institute.
But you can be sure that Goodall was not in it for the money. After six decades of studying and protecting chimpanzees, the scientist is all too familiar with the perils of placing profits before principles. And that's what makes her message all the more meaningful and valuable when she reminds consumers what a big difference their small decisions can make.
Of course, Goodall knows that Boody works only with organically grown bamboo and that they are in league with the FSC and One Percent for the Planet. She must also be aware of the fact that endangered primates like the mountain gorilla and the golden monkey depend on native bamboo in and around the rainforest of Rwanda for the preponderance of their sustenance.
She knows as well as we do, that more bamboo means more monkeys. In many parts of the world, it also means healthier air, cleaner water, and richer soil.
Boody and Bambu Batu
Here at Bambu Batu, we never stop striving to find the best bamboo options on the market. That's how we stayed in business for fifteen years. (Oh right, thanks Covid…) It's also how we discovered such favorites at the deluxe bamboo towels from Daisy House and the 100% bamboo sheets from Bed Voyage.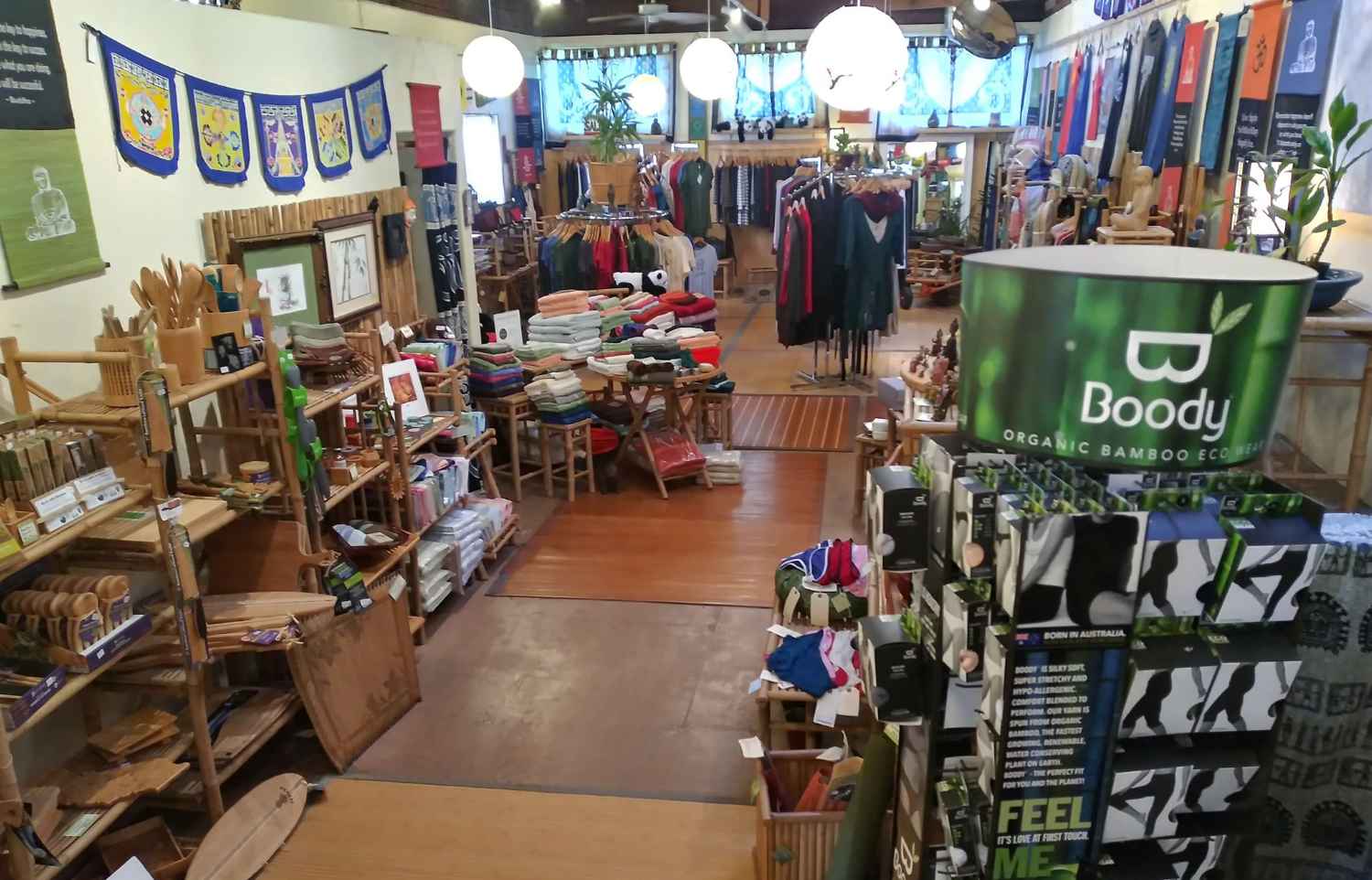 And then along came Boody, and it was a new day in the world of bamboo panties. In the interest of full disclosure, I should say that my wife discovered and purchased a pair of Boody Wear classic bikini panties at a health food store up in the Santa Cruz mountains. After having tried out a dozen different brands and styles of bamboo undies over the past decade, she was quickly convinced and these became her new favorites.
Over the years, Boody grew their brand, and we expanded our selection. What began as a small display of women's bamboo undies, soon escalated into an extravagant arrangement of thongs, boy shorts, low-rise, and bikini cut panties, as well as an assortment of men's boxers and briefs. Then we added several styles of socks, and pretty soon they were making bras, leggings, t-shirts, camisoles, and more. Panties and bras come in black, white, and assorted skin tones.
Like my wife, many of our customers quickly fell in love with Boody's superior softness and quality fit. Besides the panties, always a top seller, Boody's leggings were extremely popular. They come in full-length, three-quarter, and knee-high, all black, and manage to flatter every figure. In terms of men's wear, the selection is not so extensive, but the silky soft t-shirts are absolutely top of the line. Available in black, white, and gray.
Visit the Boody Wear website to shop for all styles of men's and women's bamboo apparel. Although they are based in Australia, Boody has warehouses across the globe. That means they can ship it to most parts of the world, including North America and Europe, quickly and easily, without exorbitant shipping fees. If you're looking to enjoy the comfort of bamboo, with softness where it really counts, I invite you to come on and give Boody a try.
Accessorize your awareness
If you love bamboo products like we do, and want to learn more, then be sure to check out some of these other in-depth articles.